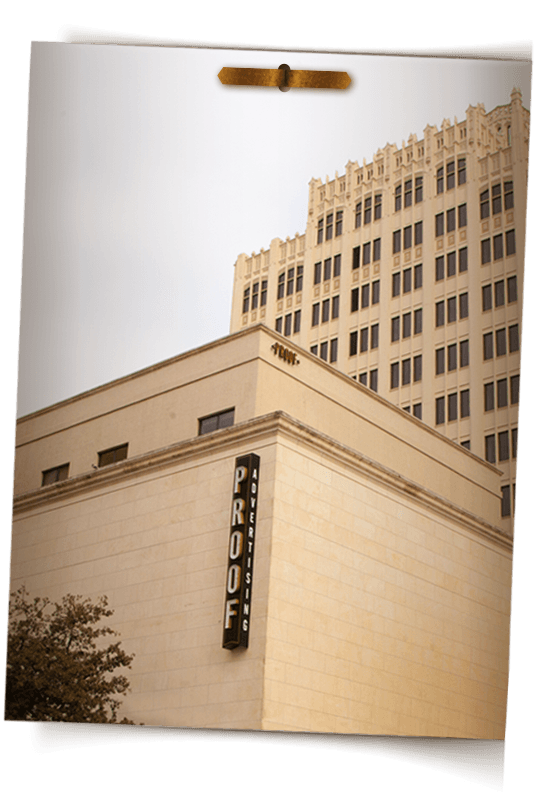 We Are Proof
Proof was created in 2010 by merger, acquisition, a lot of hard work and a little luck.
Day one, the agency was at $60 million in billings with 65 employees.
Over the past 10 years, we've grown by 70 percent and added 40 employees and a few accounts, like Texas Tourism, Travelocity, Subway Restaurants, Mouser Electronics, and the American Heart Association.
Our work and POV have been featured in top industry and general interest publications, including Advertising Age, Adweek, Creativity, Communication Arts and The New York Times. Subway named us their Agency of the Year three years in a row, and Advertising Age recognized us as one of their Small Agencies of the Year with five awards in 10 years.
Three words we live by:
Nothing Watered Down
It means speaking the truth, no matter what.
It means having a perspective, not just an opinion.
A belief informed by data, not restrained by it.
It means valuing insight more than information and defending a great idea.
It's climbing out on a limb and doing something that hasn't been tried before.
It's about celebrating what works and learning from what did not.
"Nothing Watered Down" is how we do business.

What We Do
We help brands thrive.
We strengthen their relationship with consumers by instigating conversations at the right time and in the right place.
Thinking is ignited from insightful strategies, concepted across departments without silos and propelled across channels utilizing a mindset to address every platform
with a purpose.
RESEARCH+ANALYTICS+PLANNING | BRAND POSITIONING+STRATEGY | CREATIVE+DEVELOPMENT+DESIGN
MEDIA PLANNING+BUYING | SOCIAL+EVENTS+ACTIVATIONS | INNOVATE+INVENT

Proof Advertising is a proud member of Worldwide Partners
Worldwide Partners represents a global network of more than 70 independent and diversified market services agencies in over 40 countries who support the world's most heralded brands across 90 industry verticals. Unlike the traditional agency holding company model, Worldwide Partners does not own the agencies in the network. We, the agencies, own the network.